Update from Administrator – May 12, 2020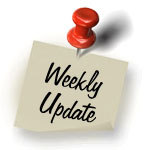 As always, our team and I hope this finds you safe and healthy.
Since this week is National Nursing Home Week, I would like to take this opportunity to give all nursing home workers thanks for all of their hard work, dedication, and compassion for all of our residents here at Shady Knoll Health Center. We remain incredibly grateful for our entire dedicated team and ask you to join me in ensuring that they are included as "Health Care Heroes" battling COVID-19.  They are doing everything they possibly can to care for those suffering and support them as they battle this disease.
We were fortunate to have a "parade" by Seymour's First Responders today.  This was well received by our residents and employees.  We appreciate the continued support of our resident families and community.
And a Happy Mother's Day to our residents, employees, and every mother within our "Family."   We did provide roses to all our residents who are mothers, and we had several Facetime/Zoom meetings with families over the weekend.
We received 4 iPads from the CT Department of Public Health this past Saturday.  They are being set up and will be used for resident/family visits.
We continue to make room changes as appropriate; our list of "COVID recovered" residents increases daily. Our COVID positive unit has decreased in size and we are transitioning residents to our COVID recovery unit.  We expect to transition residents off the recovery unit early next week.  Still a lot of room changes, but we are moving in the right direction.
As a reminder, our next "Town Hall" meeting is scheduled for Wednesday, May 13, 2020 at 4:00.  We encourage any residents and family members to contact Kate Sasso-Billings, Nicole Goncalves, or myself with any questions you have about the care we are offering. Our commitment is to be as transparent as possible and work to address any issues that arise. This is an incredibly challenging time and we will continue to do all we can to get through this, together.
Thank you and please stay safe and healthy!