Window Visits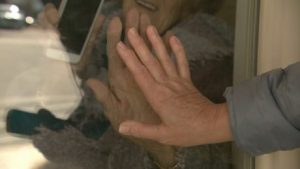 We are pleased to provide window visits with our residents and our families starting May 27, 2020.  We are asking that you make "reservations" for visits by going to Sign up Genius; connection information provided below.  At this time, use Sign up Genius only for visits, not to schedule Facetime/Skype.  To schedule a virtual visit, please continue to contact our Therapeutic Recreation department at 203-881-2225 or recreation@shadyknollhcc.com.
 Note that visits will be no more than 20 minutes long, will be with individual residents, and supervised by an employee.  Masks will be worn by residents and visitors and a 6 foot distance will be maintained between participants.  Visits will take place at the outside doorway to Sunshine Room or the outside doorway adjacent to the Wall of Honor.  Both of these are next to the patio.
 Because of the time involved with transporting residents, etc. we will offer 1 Facetime/Skype session/week OR 1 visit/week.  We appreciate your understanding with the logistics and rolling this out.  We expect to offer patio visits in the very near future.
 We look forward to seeing you in person.
Deborah S. Torrey
Administrator